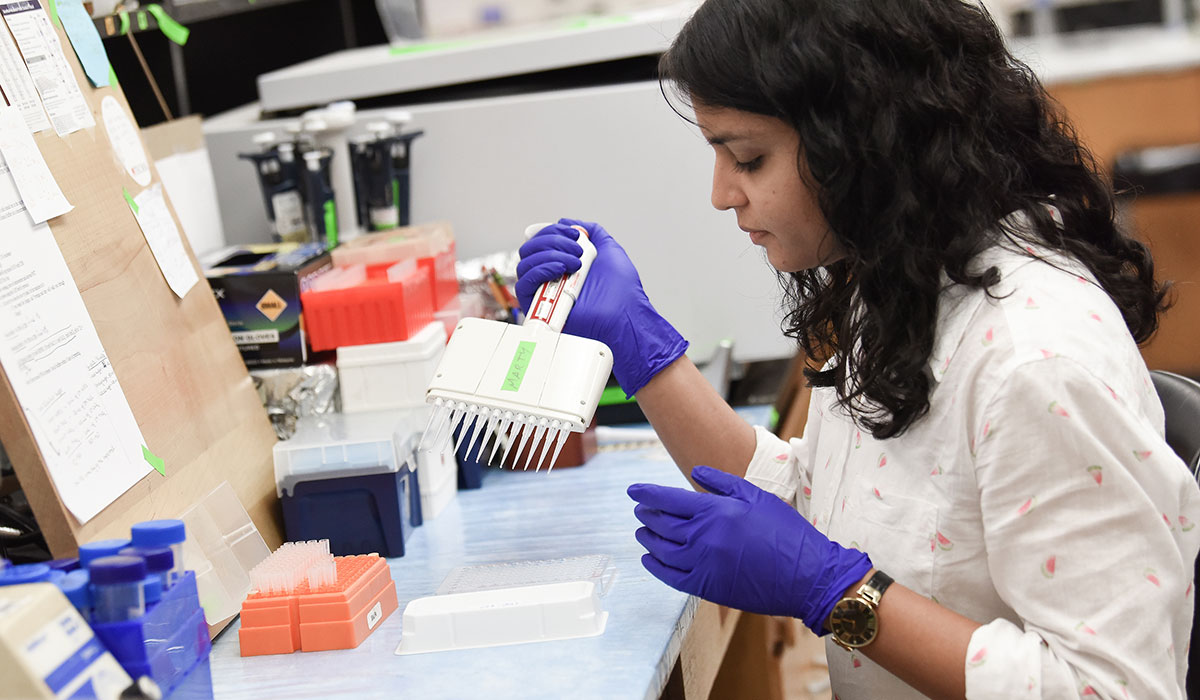 The Master of Science in Biology emphasizes cell and microbial biology. The purpose of the program is to prepare students for teaching, research, and administrative careers in biological or biomedical sciences. Courses in this program provide a foundation in biochemistry, cell biology, developmental biology, genetics, microbiology, molecular biology, neurobiology, and virology. In addition, presentations and participation in a graduate seminar program prepare students to be effective teachers and communicators.
The program includes thesis and non-thesis options. The courses in the thesis and non- thesis tracks are identical except for Thesis Guidance (6 credits) which is required in the thesis option but not in the non-thesis option. Students in the non-thesis option must satisfy this 6 credit requirement by completing Research Problems in Biology (3 credits) and additional electives. Students in both programs must pass a written comprehensive examination. Students in the thesis option must also complete a research project and write an acceptable thesis. The non-thesis option is considered a terminal degree and is not normally applicable toward the Ph.D. degree.
To fulfill thesis requirements, students perform experimental research under the tutelage of the faculty. Fields of research concentration currently include:
mechanisms of bacterial pathogenesis
liver cell biology in health and disease
biochemical and genetic analysis of multidrug transporters in yeast and humans
molecular biology of cancer and metastasis
regulation of gene expression during development
mechanisms of craniofacial diseases     
mechanisms of DNA packaging in bacteriophages and viruses
novel genetic engineering approaches for epitope presentation and vaccine development    
bacterial exotoxins and their inhibitors
biophysics of single ion channels and membrane transport
mechanisms of nutrient signaling that drive chromosome instability
how genotoxic stress is generated by and contributes to Huntington's disease
regulation of human KRAS in yeast
microfluidic platforms to study aging and  intercellular communication
Standard prerequisites for graduate work in biology include two years of chemistry, two years of biology (including biochemistry and microbiology), one year of physics, and one year of calculus. Students admitted to the department with a deficiency take the required courses during the first year of graduate work. Applicants must include results of the Graduate Record Examination, preferably including an advanced test in one of the biological sciences.
The Department of Biology accepts both full-time and part-time graduate students.